My Sojourn
My Sojourn
Don Solin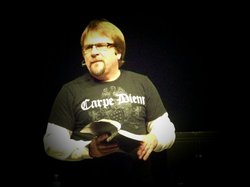 Ministry is my Life
Greetings. Thanks for dropping in and welcome to my little website. It's all about my sojourn-- my journey-- my life of ministry! Don't miss my little attempt to "blog" just go to the "Live Sojourn" section-- click on it and give it a read-- by all means leave a comment. You can also click on the sections of pictrures for some of my fav pics.
Very soon! My little Sojourn will be moving to a NEW Website: donsolin.com
Enjoy
You can always email me @ www.dsolin@juno.com I would love to hear from you.
Some places (things) you might want to check out
This vid says it all-- Thanks http://www.youtube.com/watch?v=ra4MDc-8Z1A
From a former students blog-- check it out-- http://scottlenger.com/christianity/successful-student-ministry/
If you want to check out a sermon of mine you can go here--
I'm on YouTube http://www.youtube.com/watch?v=9bHGK-GkcF0
or http://www.youtube.com/watch?v=ioG0YK0w_UY
I just finished reading an incredible book Bonhoeffer Pastor,Martyr, Prohet, Spy by Eric Metaxas
an incredible study/biography of a man committed to God, to His Word, to following the living Christ. This is a must read.
Another must read Lead Like Jesus by Ken Blanchard
My FAV U2 live version of 40-- Check it out Live
http://www.youtube.com/watch?v=N9I9H2Y_lQAe
Or just read the original text
Psalm 40. 1-5
1 I waited patiently for the LORD;
he turned to me and heard my cry.
2 He lifted me out of the slimy pit,
out of the mud and mire;
he set my feet on a rock
and gave me a firm place to stand.
3 He put a new song in my mouth,
a hymn of praise to our God.
Many will see and fear
and put their trust in the LORD.
4 Blessed is the man
who makes the LORD his trust,
who does not look to the proud,
to those who turn aside to false gods.
5 Many, O LORD my God,
are the wonders you have done.
The things you planned for us
no one can recount to you;
were I to speak and tell of them,
they would be too many to declare.